A few weeks ago I hosted a dinner for 10 Junior League of Chicago women. I knew the women would be talking while eating so I wanted to make an appetizing meal that was easy to eat. I I decided to make grilled chicken with an apple Dijon pan gravy and roasted herb potatoes. I also wanted to serve a vegetable dish to compliment the flavors of the sweet chicken and savory potatoes. Normally I would have gone with green beans or carrots, but I had a two heads cabbage waiting to be used in my refrigerator.
Using only three ingredient I created a warm salad of cabbage, bacon and blue cheese. I didn't use any vinegar or citrus fruit juice, but rather a very pungent and tangy blue cheese. If you use a mild blue cheese I would recommend adding a hit of acid like apple cider vinegar or a squeeze of fresh lemon juice. Since the bacon was being cut into lardons and I was using the fat for the dressing, I used bacon pieces which are less expensive than bacon slices but a bit fattier. Yes, I do realize that I have turned one of the healthiest vegetables in the world into a bacon and cheese dressed side dish. But Please I BEG YOU, do not use a low fat bacon, you need the rendered fat for the dressing and flavor. If anything, remove some of the rendered fat from the pan before cooking the cabbage.
What I love most about this dish is its simplicity. If you want to get creative you could add onions or apples. You could also add a bit of nuttiness with some walnuts or pecans. If you really wanted to amp it up, you could add them all.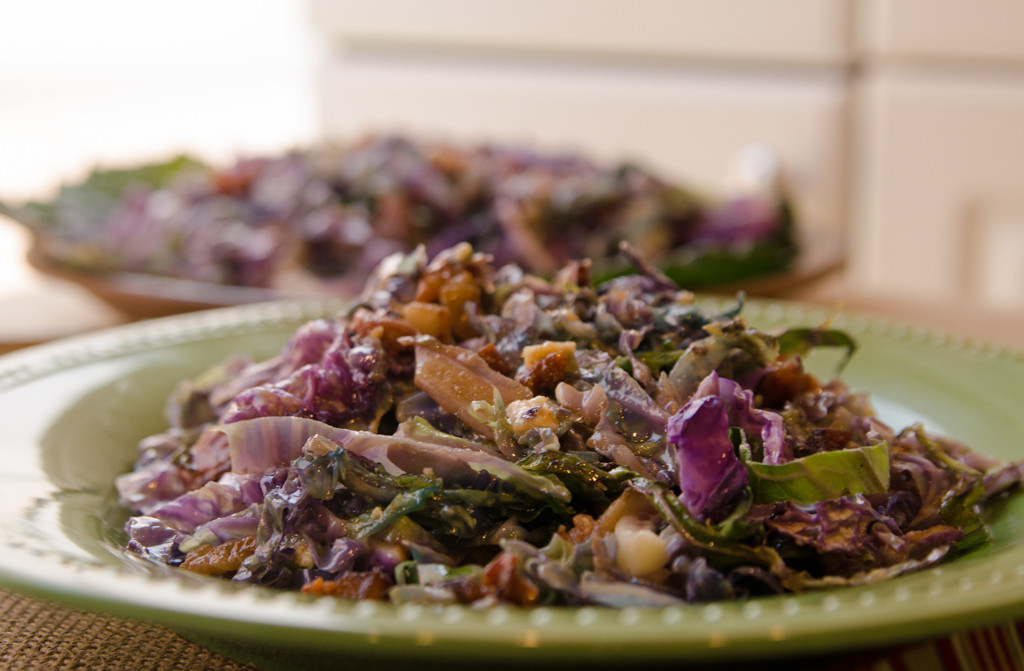 In addition to the flavor of this dish, I love the presentation. I used purple cabbage (though you can use any cabbage your like) and the colors turn pretty funky. It's a rainbow of cabbage on the plate.
Print
Warm Cabbage Salad with Bacon and Blue Cheese
Ingredients
1

head cabbage

cored and sliced

1

lb

bacon

cut into 1/2 inch lardons

3

oz

pungent blue cheese

crumbled

salt and pepper to taste
Instructions
In hot frying pan render bacon until crispy. Reserve bacon lardons.

In hot pan with bacon grease cook cabbage until wilted.

Toss cabbage with bacon and blue cheese. Salt and pepper to taste.

Serve warm.
This side dish will surely impress any of your guest. I surely impressed mine.
Enjoy!