This post was written prior to the attacks on November 14th in Paris. In my post I complain about bad beach weather which seems pretty trivial today. I have a fond place in my heart for Paris. When I was only 10 years old, I took my first trip to France. Visiting Paris opened my eyes to the excitement of travel and the beauty of experiencing different cultures. My heart goes out to everyone who lives there or was subject to the horrible act of terror. I know that I will be back to visit the city of lights someday soon.
I hope you enjoy reading about my weekend in San Diego. The fact is regardless of the weather I had a fantastic time.
A few months back (yes I know I'm a bit behind on travel posting) I journeyed to San Diego for a weekend getaway. Charlie was attending a home brewers conference and I decided to tag along. Since I had been to San Diego before, my plan was to plop my butt on the beach with a good book, meet Charlie for dinner and have a complete R&R weekend. Sound awesome? (psst…the answer is yes) I thought so too, which is why I was bummed out when the weather was uncooperative.
From the time we landed to the time we departed the weather was nonseasonal and out of charter for San Diego. It was cool, cloudy with intermittent sprinkles of rain and no sunshine. Needless to say, I had to readjust my plans ASAP.
Before commencing any vacation activities I went directly to my favorite fish taco place on the planet, Blue Water Seafood Market and Grill. I don't know why they are my favorite fish tacos but they are. I think it's the perfectly cooked fresh fish with the simple slaw and crema. SO SO GOOD. It is always my first stop for tacos in San Diego.
After filling my belly with tacos, I spent my first day exploring Torrey Pines National Park. It is a beautiful ocean side park with acres of trails to explore. Being alone, I felt very safe . It's a busy park and the trails are well marked. In other words, if I were to have fallen and not been able to get up, someone would have found me. This might sound silly but as someone who has traveled alone extensively it's one thing that is always on my mind. Be safe, be seen.
The park is know for having the rarest pine tree on the North American continent, the Torrey Pine which are also endangered. So in addition to being a park, it is also a pretty awesome nature preserve.
There are several trails that can be walked all having views of the gorgeous ocean vista.
I was so happy exploring I even took an unprecedented selfie (…in flat lighting and a tank top. Didn't I do fashion blogging for a hot minute? Shouldn't I be better at this?).
Our first night in San Diego Charlie surprised me with a reservation at Juniper and Ivy. My favorite dish of the night was one of the signature toasts with chopped steak, quail egg, cotija and jalapeno. Everything was delicious.
We then headed to the Aero Club for a night a cap. A dive bar with more than 800 types of whiskey..YES PLEASE!
The next day the weather was pretty terrible so I went searching for two things I love, coffee and tortillas.
In the morning I hit up several coffee roasters (I WAS VERY VERY AWAKE). Zumbar was my favorite stop of the day. I had a delicious latte and really enjoyed the roast on their beans. Like the craft beer industry, small batch coffee roasters are exploding in the US. With this growth comes a lot of creativity, some of which I love, some of which I think takes like sewer water. I thought Zumbar's coffee was straight forward with a lot of character. I could taste a lot of notes (chocolate, cherry, pecan) in the coffee but it still tasted familiar. A shout out to Bird Rock, you were a close second.
Well caffeinated I began my search for fresh tortillas. I visited two tortilla stores, one that specializes in flour tortillas (above) and one in corn. I also went to the Pancho Villa Farmers Market (which is a brick and mortar grocery store) which was recommended to me by a few locals Zumbar Coffee Shop. I'll be post more on my search for great tortillas in the next few weeks but know this, the adventure was almost as great as the reward. I got to see many parts of the city that I normally would not have ventured into. And, I have been enjoying homemade tortilla from San Diego all summer and fall.
That night I took a long drive to meet some friends for dinner up in Irvine, California. It was great night catching up in person rather than Facebook. Face time with my friend spent with my two friends might have been the highlight of this already great trip.
With Charlie's conference ending early Sunday morning we were able to spend our final day in San Diego together. We stared with brunch at Pizza Port. FYI, pizza for brunch is never a bad a thing. I picked the pizza, Charlie picked the beer. I went with the pizza Monterey with pepperoni, mushrooms, onions, & artichoke hearts. I have not clue what beer Charlie ordered for me, likely an IPA or something along those lines. I just remember both being pretty darn tasty.
We then drove up the coast and headed to see the colony of Sea Lions in La Jolla Cove. Arf Arf…I love the sound that sea lions make, their smell not so much. As many as 300 sea lions line the coast of La Jolla. They range in size from small females (about 100 pounds) to large males (up to 900 pounds) and are mesmerizing to watch.
This little guy was quite the ham. Popping up and down and chatting with the humans and posing for pictures, it was so fun to watch.
Next we toured the USS Midway. The vessel, now a museum, has over 60 exhibits most notably 29 restored aircraft and a flight simulator. Please note, I passed on the flight simulator since I get motion sickness looking at moving objects.
However, we did spend quite a bit of time exploring the USS Midway's exhibitions. We sat though a lecture on how planes are launched from the carrier which was fascinating. But it was the mess haul that completely intrigued me. Chipped Beef? I thought that was just an old wives tail that "shit on a shingle" was served in the military; I stand corrected and grossed out.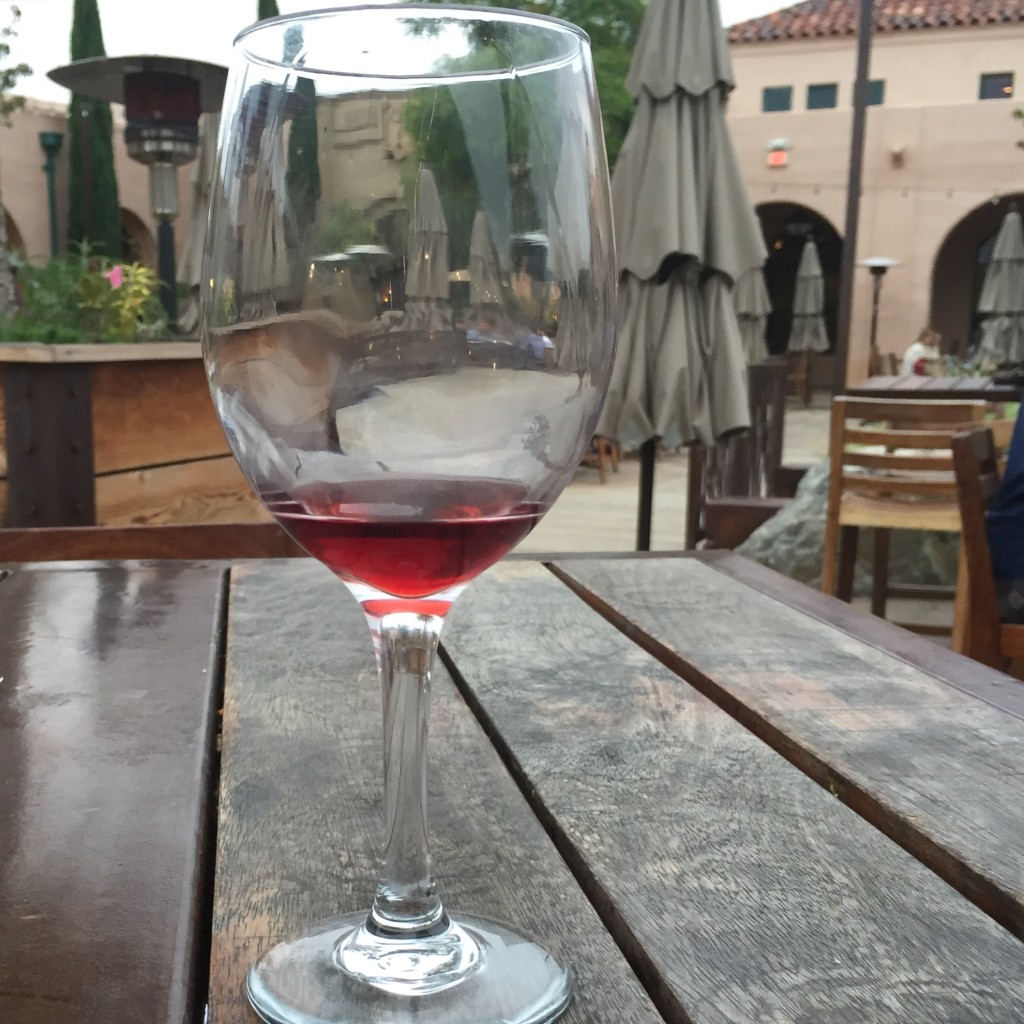 We closed our weekend with drink and snack at Stone Brewery (World Gardens). Yes, I ordered wine at a brewery, and you know what? …it was delicious. The weather wasn't the best, the sun never shined and my beach bum plans were ruined by overcast skies, it never damper my good vacation attitude. Vacations are what you make them and I had a great time exploring San Diego.