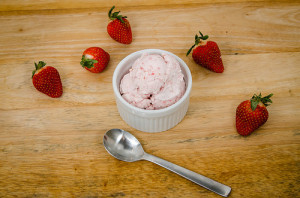 I'm not sure if getting an ice cream maker for Christmas was a gift from God or the Devil? WOW..why had I not bought one sooner is beyond me. The difference between freshly made ice cream and the stuff out of the freezer section are worlds apart.
I've been trying out some very basic recipes using great ingredients and ripe fresh fruit. The results are amazing and I'm addicted to simply sweet strawberry ice cream. It a bowl of summer and the perfect sweet treat during this cold and dreary winter.
Makes 8 servings
Ingredients:
2 cups crushed strawberries

Directions:
In a large bowl, combine the milk, cream, sugar, salt, vanilla and strawberries. Pour the mixture into bowl and chill in refrigerator for 2-24 hours (this helps bring out the flavor). Pour into ice cream maker, and freeze according to manufacturer's directions.

Scoop and ENJOY!




Nutrition Facts
Serving Size 101 g
Amount Per Serving
Total Carbohydrates
29.7g
10%
| | | |
| --- | --- | --- |
| Vitamin A 3% | • | Vitamin C 0% |
| Calcium 8% | • | Iron 0% |
* Based on a 2000 calorie die