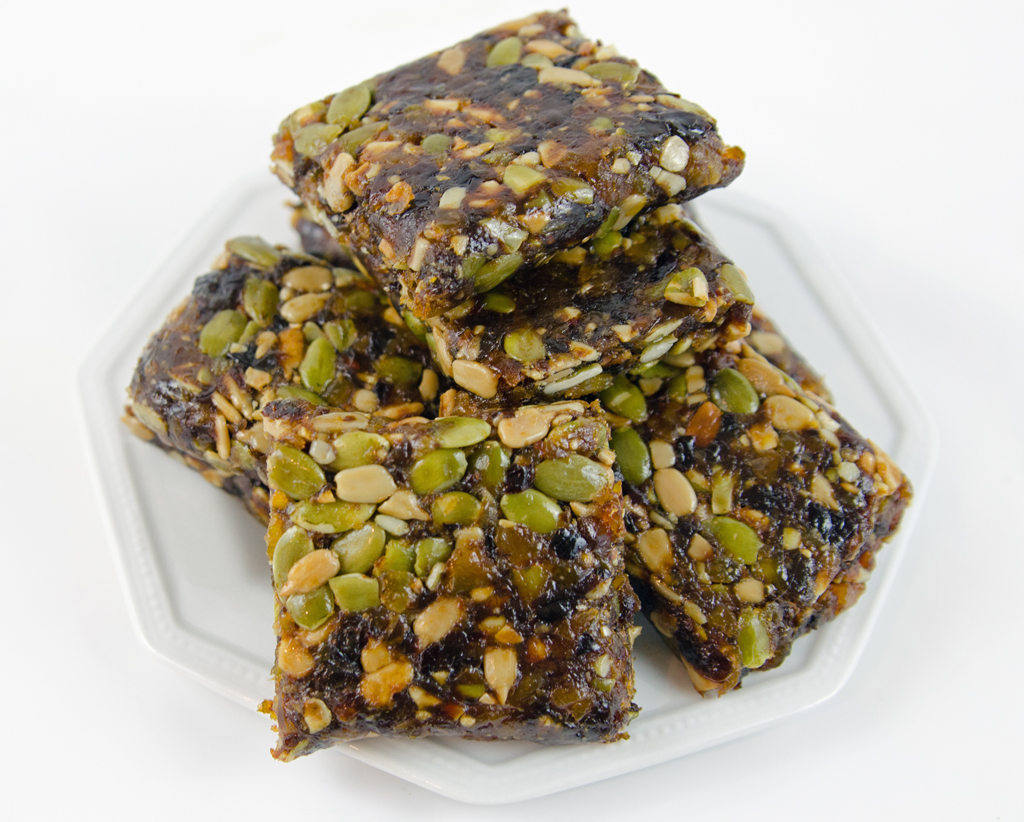 I love dried fruit, nuts and seeds. And together they are magical. So magical that once I start eating them their powers take over me and I cannot stop. Alas, I love granola, trail mix and fruit and seed bars. Since I know myself very well I typically don't keep granola or trail mix in the house and if I do I need to keep it in single serving portions. Fruit and nut bars, nicely come in single serving portions but I find that if they can be dry and lack big fruit flavor which is why I make my own. Not only can I control the flavors I can also control the ingredients.
This recipe is one of my favorite. I love the crunchy seeds, sweet fruit and salt from the roasted sunflower seeds. I often have a bar before I exercise or as a sweet treat with a cup of tea in the afternoon. They are a perfect portion and quite an indulgence for 150 calories. These bars also have a ton of fiber which is always awesome. I like them best when they are chilled. If you like a soft and gooey bar you will love them at room temperature.
Print
Healthy Fruit and Nut Bars
Ingredients
1/2

cup

dates

pitted

1/2

cup

prunes

pitted

1/2

cup

dried apricots

pitted

1/2

cup

pumpkin seeds

1/2

cup

toasted salted sunflower seeds

1

tablespoon

coconut oil
Instructions
In a large bow, heat coconut oil so it liquid (about 20 seconds in the microwave). Mix in dried fruit.

In a food processor, slow add fruit and pulse. Continue to pulse until fruit is a paste with small bits. Continue to pulse and slowly add seeds. Pulse until combined.

On a piece of plastic wrap pour out mixture. Roll tightly into a log.

Wrap in plastic paper and with a rolling pin roll until flattened. Keep ends formed so it becomes a rectangle.

Cut into 8 pieces.

Wrap individually in plastic wrap.
Recipe Notes
These bars keep for up to a week an a sealed container. They can be refrigerated.