A charcuterie board is my go-to party appetizer. Everyone loves cured and smoked meats and it can be made in just a few minutes and with three simple steps.
Of all the appetizers I serve at parties, the charcuterie board is ALWAYS the crowd favorite.  How do I know? It is devoured first and there is typically nothing but crumbs left at the end party.  From a hostess perspective, charcuterie boards are my favorite to make because 95% of work is done when your are shopping.  Take your everyday cutting board, slice you meats strategically scatter meats, accouterments and few garnishes. BOOM! Done.   With summer around the corner, nobody wants to be held up cooking in the kitchen.
Charcuterie – The Meats
Charcuterie, is a variety of prepared meats;  cured, smoked or spreadable.  It includes everything from bacon, ham, and sausage to terrines, galantines and pâtés.  Serious Eats has a great article on the various types of French charcuterie.   Charcuterie boards are often served with bread and a variety of accouterments.
When choosing meats I like to use a variety of meats with different flavors and textures.  Really, there are no rules to follow.  I've done simple boards with sliced hard salami, bread, and mustard.  And, I have done fancy boards with Foie Gras and kanuka honey.  Both were devoured by guests.  I say go with what you like eat.  Below are just a few suggestions on the types of charcuterie to include to create a balanced board with something for everyone to try.
Soft Sliced Meat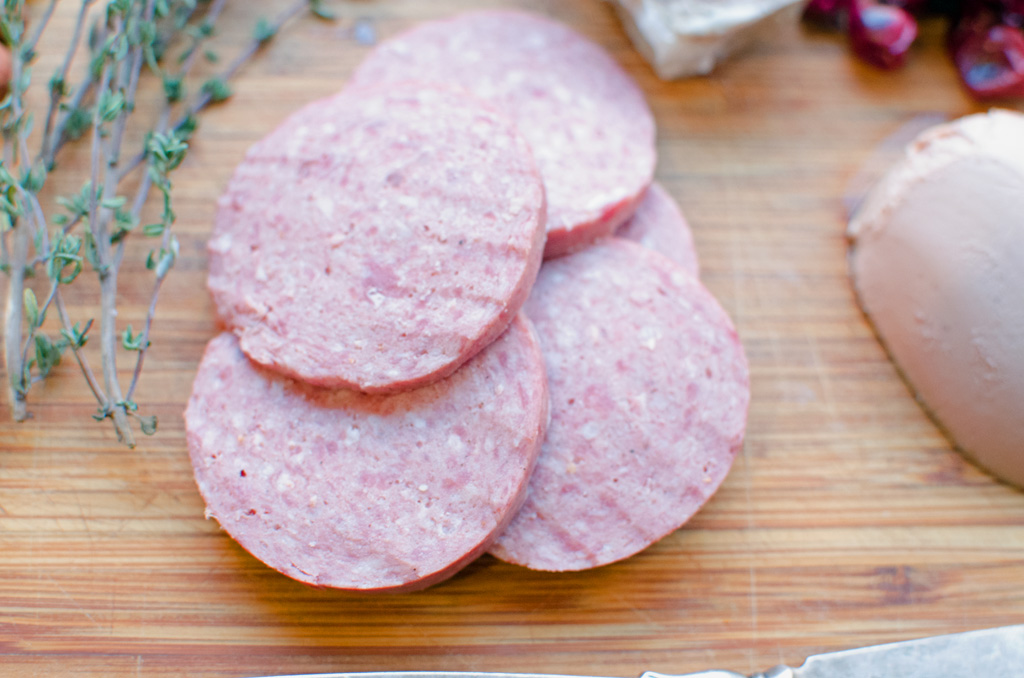 I typically serve an uncured sausage on my charcuterie board. They are typically less salty than cured sausages and, for my denture wearing party guests,  they are also easier to eat.   The meat pictured above is kosher all beef salami from Abeles & Heymann; they are great producers of gourmet kosher delicacies.  If you don't have access to a store that sells uncured sausage (and don't have time to order online),  ham from the deli department is a great choice.  It's low in price and people will love it.  Ask the deli to cut a whole piece off the ham and then when preparing your board, cut the piece into 1″ chunks. If you can only find pre-sliced ham at the store, roll it up and stack the rolls in pile on the board.
Hard Sliced Meat
Hard cured charcuterie is my favorite.  There are so many types of to choose from and I tend to go with big flavors.  The selection above is from Olympia Provisions in Portland.  It's Saucisson D'Alsace, a salami flavored with clove, nutmeg, allspice & cinnamon.  Olympia Provisions was Oregon's first USDA-approved salumeria, established in 2009.   Everything they make is handcrafted and 100% amazing.
Cured meats are pretty abundant but not all are made with high-quality ingredients.  When possible I try to pick cured meats that are naturally aged and not hot-incubated, cooked or irradiated.
Soft Spreadables
I like to put one or two soft spreadable meats on every board I make.  I love a silky smooth pork or duck liver pâté mousse because it adds a rich and creamy component to the spread.   You can actually buy pâté in cans at speciality stores.  Canned pâté keeps in the cupboard for several months.  I know it sounds weird, but many of them are actually very good.  When I was in London, I stocked up at Fortnum and Mason (it legal to bring canned meat back from the UK).  I do buy fresh when I can and for my local readers in Chicago, Butcher and Lardner at Local Foods sells a delicious pork liver pâté mouse.
My favorite pâté to eat is country-style pork pâté.  I like the texture of country pâté and I prefer when it is studded heavily with nuts.  The selection above is also from Olympia Provisions.  It is made with Oregon hazelnuts and house-cured bacon; spiked with cognac and Oregon honey.  AMAZING.
The Accoutrements
Honey, jam, dried fruit, nuts, pickled vegetables, mustard, and bread. All or any of these items can be put on the board.  At minimum, I do recommend a sweet and a savory.
However, the only must that should go on every charcuterie board is mustard.  Mustard is like bay leaf in soup,  without it, something is just missing. I do like to change up the types of mustards I use and I often put a couple different dollops on the board for people to taste.
The Garnish
Once you have constructed your board, a garnish is optional.  When I do dress my charcuterie boards up, I use a  few stems of fresh herbs.  Like I said in the beginning of this post, most of the work goes into the shopping.  Pick out what you and your guests like to eat and put on your board.   In the world of Charcuterie,  the options are endless.