This shop has been compensated by Collective Bias, Inc. and its advertiser. All opinions are mine alone. #SavvySnacking #CollectiveBias
I admit it, I'm a snacker. And lately, I cannot get enough of my bento box style snacks that I've been making. Nutritionally complete with protein, fruit, vegetables, whole grains and healthy fat, this small meal fuels me and keeps me strong when I'm feeling hungry and need more than just a piece of fruit or a some sliced vegetables. For my protein I have been choosing Lorissa's Kitchen Premium Steak Strips. I love the taste and I especially love that the meat comes from 100% grass fed animals with no MSG and no preservatives.
To construct my bento box snack I use a four section plate and fill each section with one component of my snack. In section one I add a cup of sliced fruit. In section two I add a cup of sliced vegetables. In section three I add a half cup of whole gain salad. And, in the forth section I add a serving of Lorissa's Kitchen meat. I like to stick with flavor combos the meld well together. For example, I pair Lorissa's Kitchen Korean Barbecue Steak Strips with pineapple, bell peppers and snow peas.
I love changing up my box with a different kinds of the meat strips. Lorissa's Kitchen offers several varieties including:
Lorissa's Kitchen Korean Barbeque Beef
Lorissa's Kitchen Sweet Chili Pork
Lorissa's Kitchen Szechuan Peppercorn Beef
And I have to mention that #SavvySnackingSweepstakes is giving a way $100 Walmart Giftcard. Seriously, that's a lot of snacking cash folks. Enter below to win:
Lorissa's Kitchen #SavvySnackingSweepstakes
Okay, back to these bento snack boxes. The whole grain salad is so so good. I love the texture from the faro that adds a nutty chewiness. Three grains adds a ton of fiber and makes me feel full. And the sesame oil, it provides richness which pairs really well with the vegetables and pineapple.
Print
Three Grain Salad
Ingredients
1

cup

bulgar

1

cup

barely

1

cup

farro

1

carrot

diced fine

1

small onion

diced fine

1

cup

cilantro

chopped fine

2

tablespoons

sesame oil

2

tablespoons

of lime juice or apple cider vinegar

1

teaspoon

salt

1

teaspoon

pepper

1

teaspoon

of toasted sesame seeds

for garnish
Instructions
Cook grains in a large pot of boiling water, until tender but still a bit chewy. Drain and cool.

In a large bowl add grains, onion, carrot and cilantro. Mix until combined.

In a small bowl add oil, lime mice, salt and pepper. Whisk combined.

Add dressing to grains. Mix until well combined.

Garnish with sesame seeds before serving.
I actually started to eat bento box snacks on days on days that I do cardiovasular exercise in the evening. I was feelings sluggish and realized it was because I was hungry. I decided about a month ago that I needed to make a concerted effort to get in 60 minutes of physical activity each day including 150 minutes of cardiovascular exercise each week per the US Physical Fitness Activity Guidelines.
I know what you thinking, that is really daunting. But I use the calendar below to map out my week.
I map out all my obligations for the week. Then I figure out when I can slip in exercise. Some day my exercise is walking to and from work (about 3 miles). Other days, I go to spin after work or yoga a lunch. By mapping out my day and ALL my work (that report is going to take a long time to write) I get a good sense of how I can fit exercise in. I do this every Sunday night and then make calendar appointments with myself for exercise.
I also put together this handy dandy grid for me to reference when I'm planning my exercise for the week. I often look at a day and think, nope, can't get in any cardio. And then I realize my gym has a 7 am water workout. Boom, cardio done for the day.
Putting this all together takes about 15 minutes on Sunday night. Which is time well spent because I wake up on Monday morning knowing what my week looks like ahead.
I'd be remiss if I didn't mention that Lorissa's Kitchen makes a great grab and go snack. On Saturdays and Sundays I exercise in the mornings and I often don't eat breakfast right away. I run errands after the gym before going home and making a meal. I need something to eat post workout that has protein to keep me from stopping and grabbing a bagel and loading up on carbs. Lorissa's Kitchen Strips are great. I'll often grab a bag for Charlie and me to split post workout. We eat our snack in the car while driving from errand to errand.
I found Lorissa's Kitchen in my local Walmart. Typically they are located by the a check-out counter but sometimes they stock them on a hanger in the cracker isle.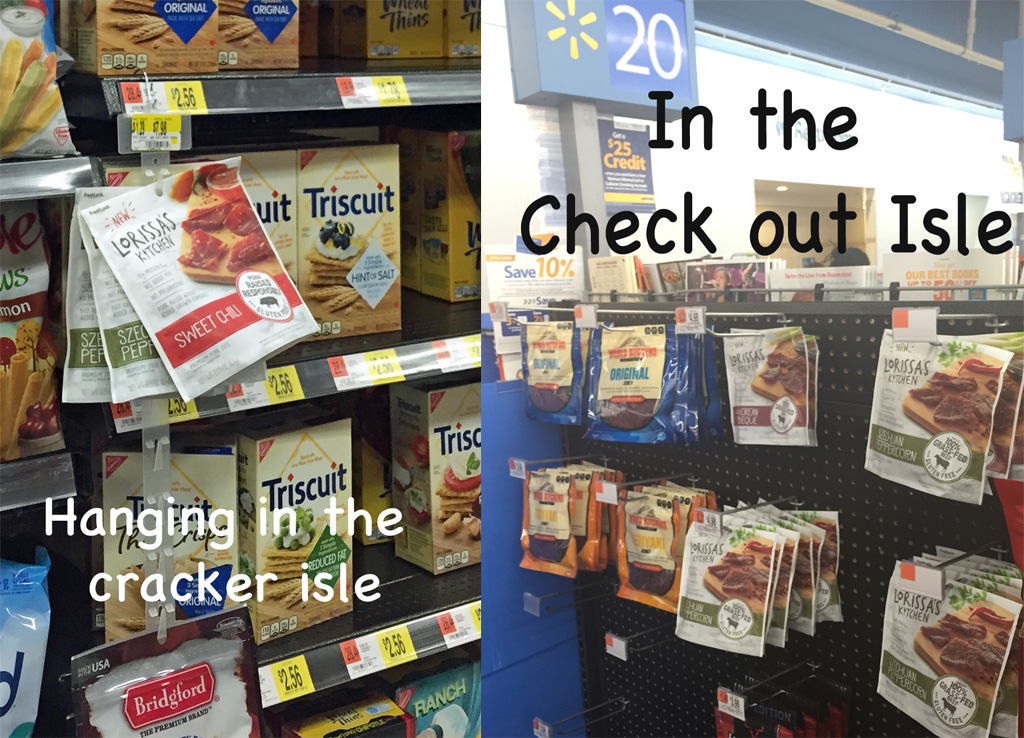 Happy Snacking! What are you favorite snacks to eat during the day? Do you have a pre-workout snack that you rely on?